I am now over the halfway mark with HAED 2012 SAL Siberian Forest. The detail is amazing, it really looks like the fur is 'real'. I am now further ahead than this picture and I think I am coming up towards the eye, which I know from seeing other's completed pages is really fantastic. I am on the final stretch with this one now and think I should get it finished by the end of next week.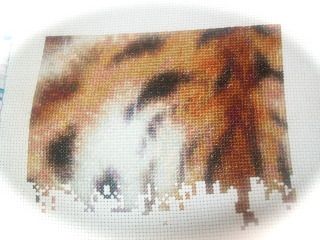 P.S. It's that time again!!! Don't forget to sign up to this weekend's International Hermit and Stitch weekend. Just click on the hermit in my sidebar to find out more!!!
Happy Stitching Everybody!!!!!